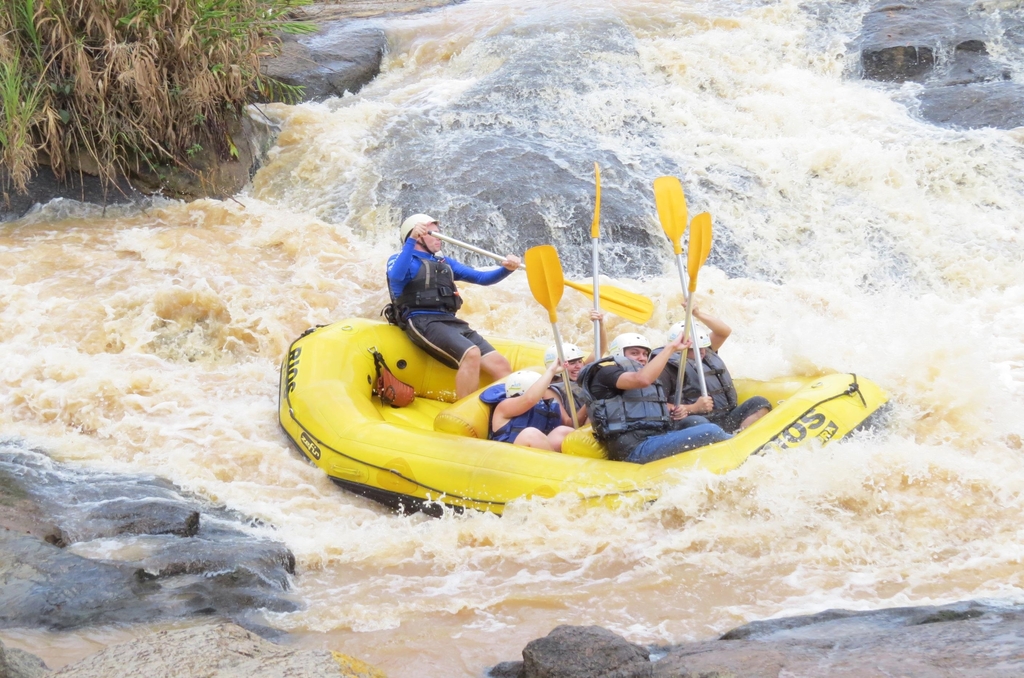 Kitulgala is a small town in the west of Sri Lanka. It is in the wet zone rain forest, which gets two monsoons each year, and is one of the wettest places in the country. Nevertheless, it comes alive in the first three months of the year, especially in February, the driest month. The Academy Award-winning The Bridge on the River Kwai was filmed on the Kelani River near Kitulgala, although nothing remains now except the concrete foundations for the bridge.
Kitulgala is also a base for white-water rafting, which starts a few kilometers upstream. Large numbers of people make the excursion at weekends to enjoy the beautiful scenery, play in the river, and have excellent rice and curry lunch at the local restaurants.
Kitulgala White Water Rafting takes about a 90 minute run each for 6.5 km with five rapids graded 2 and 3. The Rapids with their own distinctive characters are aptly named: Head Chopper, Virgin's Breast, Butter Crunch, Killer Fall, and the Rib Cage. Riding modern rafts equipped with safety gear, White Water Rafting at Kitulgala is safe for even kids over 10 years in age.
The best time to enjoy White Water Rafting at Kitulgala is the period between May to December. During periods of heavy rain, the river could turn out to be very volatile and White Water Rafting becomes very unsafe. The adventure operators on site would advise all water sports enthusiasts on the matter. However, water levels could drop surprisingly fast, turning the river to its regular state during the rainy season as well.
White Water Rafting is categorized in 6 grades in accordance with the difficulties and dangers posed: they range from simple to very dangerous and potential death or serious injuries.
Grade 1: Very small rough areas, might require slight maneuvering. (Skill Level: Very Basic)
Grade 2: Some rough water, maybe some rocks, might require some maneuvering. (Skill level: basic paddling skill)
Grade 3: White Water, small waves, maybe a small drop, but no considerable danger. May require significant maneuvering. (Skill level: experienced paddling skills)
Grade 4: White Water, medium waves, maybe rocks, and a considerable drop. Sharp maneuvers may be needed. (Skill level: White Water Rafting experience)
Grade 5: White Water, large waves, large volume, the possibility of large rocks and hazards, the possibility of a large drop, requires precise maneuvering. (Skill level: advanced White Water Rafting experience)